The Center for Coastal Studies is dedicated to understanding, preserving and protecting marine ecosystems and the coastal environment through applied research, education and public policy initiatives.
The Humpback Whale Studies Program is the longest continuous research program at CCS. It is also one of the most detailed and long-term studies of a baleen whale population…
The Hiebert Marine Lab is closed to the public until further notice.
Some outdoor family and youth education programs have resumed; please check our events calendar for program and scheduling information.
Center for Coastal Studies staff continue to work to pursue the Center's mission to protect and conserve the world's oceans and marine life.  Thank you for your patience, understanding, and continued support.
Our research is collaborative, interdisciplinary, and focused on finding sustainable solutions to the important issues facing our coastal communities and marine ecosystems.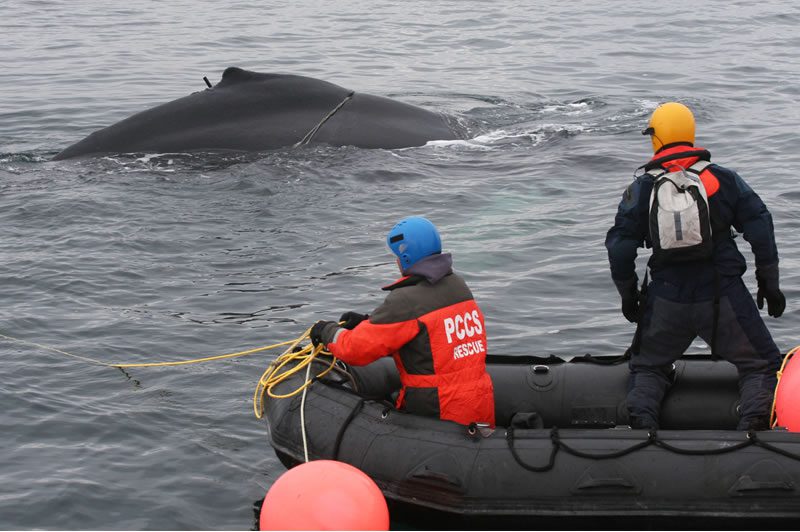 The Marine Animal Entanglement Response (MAER) program is an emergency, field-based conservation effort with staff on call 24/7 to rescue and document whales and sea turtles entangled in fishing gear.
CCS promotes stewardship, raises awareness, and increases understanding of marine and coastal environments through a wide variety of audiences through curriculum-based classroom lessons, experiences in the field, and public outreach events.
After 14 years at the helm, Center for Coastal Studies President, Richard Delaney, will transition to a consulting role as Senior Advisor in January 2022. Delaney led the Center during a critical period of growth that included doubling the staff to 40; overseeing the...
read more
Get Involved
The Center for Coastal Studies is an independent, non-profit, member supported organization whose mission is to understand and protect our coastal communities and marine ecosystems. The ocean and its spectacular diversity belong to all of us. You can support our critical work by becoming a member, volunteering your time, making a donation, or shopping our store.
become a member
As a new or renewing member of the Center for Coastal Studies, you are making an active contribution to the study and conservation of the Gulf of Maine, home to the great whales of the North Atlantic and the many other fantastic varieties of wildlife for which it serves as a primary habitat.
meet our supporters
The Massachusetts Environmental Trust (MET) is a grant program whose mission is to support projects that enable innovative approaches to protect and restore natural resources. The Center for Coastal Studies Humpback Whale Studies, Right Whale Ecology, Marine Animal Entanglement Response, and Water Quality Monitoring programs all receive funding via the MET's Environmental License Plate program. Visit their website for more information.